Depart from Cyprus to New Zealand
Day 1: Arrive Christchurch
On arrival in Christchurch you'll be transferred to your hotel. There will be a Welcome Reception with your Tour Director and fellow travellers in the evening.
Hotel: Ibis Hotel, Christchurch
Day 2: Christchurch – Omarama
You have time at leisure this morning. Later, travelling over the patchwork countryside of the Canterbury Plains, the spectacular sightseeing begins. Lake Tekapo and Lake Pukaki are first up. Next you'll visit the Church of the Good Shepherd before soaking up the sensational alpine landscape of Mt. Cook National Park – a scenic highlight! You may choose to take an optional scenic flight over Mt. Cook (weather permitting).
Hotel: Heritage Gateway Hotel, Omarama
Day 3: Omarama – Dunedin
Your day starts along the Waitaki River with the Waitaki Hydro Power Scheme and Benmore Dam. Travel through Oamaru with its famous white limestone buildings to Dunedin, where you'll tour the city. Then you've got the afternoon to yourself – take a Wildlife Cruise, visit the Cadbury Chocolate Factory or ride the historic Taieri Gorge Railway.
Hotel: Scenic Hotel Dunedin City
Day 4: Dunedin – Te Anau
After a morning of time to yourself, during which you might like to tour New Zealand's Larnach Castle and its stunning gardens, you'll head off across South Otago's fertile, sheep-filled farming land en route to Te Anau, on the shores of Lake Te Anau, the largest lake on the South Island. Tonight you may choose to travel by boat to the Te Anau Glow Worm Caves.
Hotel: Luxmore Hotel, Te Anau
Day 5: Te Anau – Queenstown
Today is a feast for the senses. You'll be awe-struck by great sights from Fiordland National Park, New Zealand largest, to Milford Sound, where you'll cruise on the waters of this natural wonder. Amazing photo opportunities await you as you see rainforests, ancient glaciers, mountain ranges and the hand-hewn Homer Tunnel. Along the way you'll see the Mirror Lake, Pop's Lookout, Cleddau Valley, the Chasm, Mitre Peak, Bowen Falls, travel along the Devil's Staircase and the shores of Lake Wakatipu. At Queenstown you'll have an orientation tour on arrival and enjoy dinner with views over Lake Wakatipu and the Remarkables.
Hotel: Copthorne Hotel & Resort, Queenstown, 2 nights
Day 6: Queenstown 'Free Time'
Explore exciting Queenstown your way, all day. From wine and garden tours to jet boat rides and white water rafting, Queenstown will surprise and exhilarate. This evening cruise across Lake Wakatipu aboard New Zealand's oldest steamship, the TSS Earnslaw, to Walter Peak Station for a carvery Highlight Dinner at the Colonel's Homestead. An entertaining after-dinner farm show provides a glimpse into high-country farm life. Why not join in a sing-a-long on your cruise back to Queenstown.
Day 7: Queenstown – Franz Josef
First stop, Arrowtown, on the Arrow River. Second stop Cromwell and its sensational stone fruit. Then it's a trio of lakes – Lake Dunstan, Lake Hawea, Lake Wanaka. Through the Haast Pass, you view Thunder Creek Falls and enjoy a rainforest walk. Final stop, majestic Franz Josef Glacier – a rare, still advancing glacier. Take the opportunity for an optional scenic flight over the glacier.
Hotel: Scenic Hotel Franz Josef Glacier, Franz Josef
Day 8: Franz Josef – Christchurch
You'll visit Hokitika, home of the native greenstone (jade), for a factory visit and jewellery demonstration first up. Travel through Greymouth, the largest town on the West Coast, to Arthur's Pass to board the TranzAlpine, one of the top 6 train journeys in the world. This spectacular journey takes you through the Southern Alps and across the Canterbury Plains to Christchurch. This evening celebrate your vacation at a Farewell Dinner with your Tour Director and new-found friends.
Hotel: Ibis Hotel, Christchurch
Day 9: Depart Christchurch
Your tour concludes this morning after breakfast. You will be transferred to Christchurch Airport for your onward flight.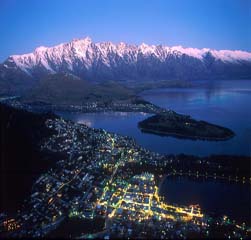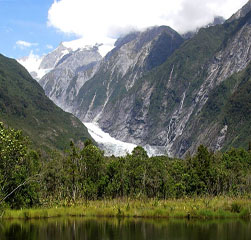 Tour Departs on Tour Returns on
16 Sep 18 24 Sep 18
Prices valid from June - September 2018 from:
Twin: €1850 per person. Single Room Supplement: €585
07 Oct 18 15 Oct 18
21 Oct 18 29 Oct 18
04 Nov 18 12 Nov 18
18 Nov 18 26 Nov 18
16 Dec 18 24 Dec 18
30 Dec 18 07 Jan 19
Prices valid from October 2018 - January 2019 from:
Twin: €2150 per person. Single Room Supplement: €650
Southern Tour Includes:
Transportation
Tour by luxury air-conditioned coach with 2-door access, restroom, seatbelts, reclining seats, panoramic windows
Professionally Guided
Tour with an experienced, professional Tour Director and Tour Driver
Accommodation
Twin share rooms with private facilities in quality hotels
Dining Inclusions
Full Buffet Breakfasts (8)
Plus
Flight Information
Day 1 Flights to arrive prior to 4.00pm into Christchurch
Day 9 Flights anytime from Christchurch
Christchurch – Ibis Hotel
Omarama - Heritage Gateway Hotel
Dunedin City - Scenic Hotel
Te Anau - Luxmore Hotel
Queenstown - Copthorne Hotel & Resort
Franz Josef - Scenic Hotel
Currency
New Zealand's unit of currency is the dollar (NZ$). All major credit cards can be used in New Zealand, with Visa and MasterCard accepted most widely, followed by American Express and Diners Club.
Health and Safety
New Zealand is generally a very safe place to travel with a relatively low crime rate, few endemic diseases and a great healthcare system.
However, you should take the same care with your personal safety and your possessions as you would in any other country, or at home. Take copies of your important documents (like your passport and credit cards), and keep them separate from the originals. You should also keep a record of the description and serial number of valuable items (like digital cameras). And remember, in an emergency dial 111.
Electricity
Electricity is supplied throughout New Zealand at 230/240 volts, 50 hertz. Most hotels and motels provide 110 volt ac sockets (rated at 20 watts) for electric razors only.
For all other equipment, an adapter/converter is necessary, unless the item has a multi-voltage option. Please note that power outlets only accept angled two or three pin Type I plugs (as also used in Australia) depending on whether an earth connection is fitted.
Public Call-Phones
Most public call-phones take cards purchased from bookstalls and newsagents, with a minimum value of NZ$2. Some public call-phones also accept credit cards, but very few accept coins.
New Zealand phone numbers appear online in the White Pages (alphabetical listings) and Yellow Pages (business category listings).
Mobile Phones
Check with your phone company before leaving home about international mobile roam facilities available in New Zealand. Alternatively you can hire/buy mobile phones or SIM cards.
Laptops
You will need a RJ45 type plug to be able to connect your laptop into a computer socket in New Zealand, and an adaptor with a flat two or three-point power plug to connect to the power supply. Phone Hire New Zealand also has USB modems available to rent for laptop users.
New Zealand Time Zones
New Zealand is one of the first places in the world to see the new day, 12 hours ahead of GMT (Greenwich Mean Time).
In Summer, New Zealand uses 'Daylight Saving', with clocks put forward one hour to GMT +13. Daylight saving begins on the last Sunday in September and ends on the first Sunday of the following April, when clocks are put back to GMT+12.
Geography
New Zealand, about 1,250 mi (2,012 km) southeast of Australia, consists of two main islands and a number of smaller outlying islands so scattered that they range from the tropical to the antarctic. The country is the size of Colorado. New Zealand's two main components are the North Island and the South Island, separated by Cook Strait. The North Island (44,281 sq mi; 115,777 sq km) is 515 mi (829 km) long and volcanic in its south-central part. This area contains many hot springs and beautiful geysers. South Island (58,093 sq mi; 151,215 sq km) has the Southern Alps along its west coast, with Mount Cook (12,316 ft; 3754 m) the highest point. Other inhabited islands include Stewart Island, the Chatham Islands, and Great Barrier Island. The largest of the uninhabited outlying islands are the Auckland Islands (234 sq mi; 606 sq km), Campbell Island (44 sq mi; 114 sq km), the Antipodes Islands (24 sq mi; 62 sq km), and the Kermadec Islands (13 sq mi; 34 sq km).
History
Maoris were the first inhabitants of New Zealand, arriving on the islands in about 1000. Maori oral history maintains that the Maoris came to the island in seven canoes from other parts of Polynesia. In 1642, New Zealand was explored by Abel Tasman, a Dutch navigator. British captain James Cook made three voyages to the islands, beginning in 1769. Britain formally annexed the islands in 1840.
The Treaty of Waitangi (Feb. 6, 1840) between the British and several Maori tribes promised to protect Maori land if the Maoris recognized British rule. Encroachment by British settlers was relentless, however, and skirmishes between the two groups intensified.
Climatic year average
| | | | |
| --- | --- | --- | --- |
| | Day time maximum temperature | Night time minimum temperature | Average rainfall |
| January | 23°C | 10°C | 112mm |
| February | 22°C | 11°C | 107mm |
| March | 21°C | 9°C | 91mm |
| April | 18°C | 7°C | 114mm |
| May | 15°C | 4°C | 140mm |
| June | 12°C | 2°C | 135mm |
| July | 11°C | 2°C | 127mm |
| August | 12°C | 2°C | 132mm |
| September | 15°C | 3°C | 124mm |
| October | 17°C | 6°C | 127mm |
| November | 19°C | 7°C | 107mm |
| December | 21°C | 10°C | 97mm |