Paris
Visit one of the world's most romantic and enchanting capitals rich in famous landmarks, monuments and inspirational museums. Admire spectacular panoramic views from the Eiffel Tower, walk the elegant boulevards, shop in the exclusive boutiques along Champs Elysees and stay in one of the many amazing hotels in Paris.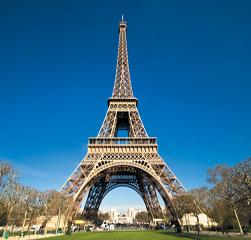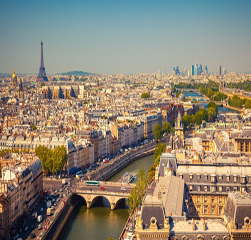 Hotel

Twin

room

1 child sharing with 2 adults

Triple room

Single Room

3 * London / Central

01/02 – 31/03/19

€

€

€

€

01/04/19 – 31/10/19

€

€

€

€

4 * Opera Cadet / Opera Area

01/02/19 – 31/10/19

€

€

€

€

5 * Hotel Du Louvre/ Central

01/02/19 - 31/10/19

€

€

R/Q

€
Includes
Return Air-ticket Larnaca- Paris or London -Larnaca
3 night hotel accommodation at selected hotel with breakfast
Airport taxes
Services of our representatives in Paris or London
Notes
Prices are subject to change without prior notice. Flight supplement may apply subject to seat availability.
Not valid during Xmas a& New Years periods. Optional tours in Paris.
| | | |
| --- | --- | --- |
| Rates are per person | Adults | Child |
| City tour of Paris 2 Hours | € | € |
| Paris tour & Cruise 3 Hours | € | € |
| Historic Paris tour 4 Hours | € 64 | € 31 |
| Tour Paris Eiffel 3 Hours | € | € |
| Illuminations of Paris 2 Hours | € | € |
| Dinner & Show at Moulin Rouge | € | N/A |
| Versailles with quide | € | € |
| Disneyland 1 day tour at 1 park | € | € |
| Private transfers airport – hotel – airport (max 3 passengers) | € per taxi | per way |
• Population: more than 65.7 million people live in the country (2012)
• Capital: Paris, with 2,2 million inhabitants
• Name: Republique Francaise (French Republic)
• Motto: "Liberte, Egalite, Fraternite" (Liberty, Equality, Fraternity)
• Government: Democracy
• Language: French
• Religion: mainly Christians (Roman Catholics 64%)
• Currency: 1 Euro=100cents, until 2002 French Franc
• History: In 700-500BC the Celtic Gauls arrive in France. In 58-50BC Roman Emperor Julius Caesar defeats the Gauls and France becomes part of the Roman Empire until 476AD. French was ruled by kings for many centuries until the storming of the Bastille during the French Revolution in 1789. Then Napoleon becomes Emperor of the French Republic until he is sent to exile.
Geography:
• France is situated in Western Europe, 1 hr flight from London/England, 5.5 hrs from New York/USA. On the France outline you will see the little island of Corsica, which belongs to France, also in the French flag colors.
• The western-european country shares borders with Belgium to the North East, Germany and Luxemburg in the East as well as with Switzerland, Italy to the South East. The Pyrenees, a mountain range to the South of France, form a natural border between Spain and France. The highest mountain in France is the Mont Blanc, that is 4,810m high and stands at the border between France and Italy.
Mainland France is divided into 27 regions and these into 101 departments. The Mediterranean island of Corsica belongs to France too as you can see in the outline above. Of the 101 departments there are also 5 ROM (regions d'outre mer or overseas regions) also belonging to France: French Guyana in South America, Guadeloupe and Martinique in the Caribbean, La Reunion and Mayotte in Africa in the Indian Ocean.
Tourist Attractions in France:
• Paris: Eiffel Tower, Notre Dame, Louvre (which you can see in the image to the right), Montmartre, Arc de Triomphe, river Seine and many other great attractions
• Versailles : castle of French kings
• Lasceaux Caves for 17,000year old rock paintings
• Cote d'Azur for turquoise blue sea and great beaches
• Corsica: in the Mediterranean sea
• French Alps: great skiing and snowboarding
• Mont St. Michel: Island with high tide
• Provence for lavender fields and old historic towns like Avignon
There are so many exciting places, historic villages, ancient Roman ruins and majestic castles to visit, please make sure you come back to this site again, as we will add more information on places to visit here soon.
Language:
French is the official language in France and it is also the second major language in Europe. The Romanic language comes from Latin and is today the second most studied language after English and spoken by more than 300million people around the world as first or second language.