Escorted tour inclusive of accommodation. Guides join locally.
January -March 2019 departures on 27/01, 17/2, 31/3/19
April – September 2019 every Sunday and most Fridays
October – December 2019 every Sunday (extra tour on Fri 11/10/19)
Day 1: Arrive Rome (2 Nights)
Welcome to Rome! After check-in, relax and unwind. Later meet with your Travel Director and fellow travellers. This evening consider a stroll around this fascinating ancient city and mingle with the locals in beautiful squares with stunning architecture!
Day 2: Rome Sightseeing and Free time
Don't miss the opportunity to join an optional excursion to the famous Sistine Chapel and Vatican Museums. Later your local guide takes you on a sightseeing tour starting with a visit to the Vatican City and the awe-inspiring St. Peter's Basilica to view Michel Angelo's statue, the Pieta. In ancient Rome view the Forum and mighty Colosseum. Afterwards, during free time, consider a trip to the catacombs and the medieval city walls of the Pantheon and Piazza Navona.
Day 3: Rome – Pisa – Florence (2 Nights)
This morning, leave Rome and head north towards Central Italy. Travel through picturesque scenery in Tuscany before arriving in the town of Pisa. Visit the Square of Miracles featuring the Leaning Tower, Cathedral and Baptistery. There is time to shop for souvenirs and take pictures. Later, arrive at your hotel near Florence, birthplace of the Renaissance.
Day 4: Florence Sightseeing and Free time
There are few cities in the world with an artistic legacy to equal that of Florence. Your Local Specialist gives a superb commentary of the city's history during your walking tour, which includes views of the Baptistery, Cathedral of Santa Maria del Fiore, the impressive Giotto's Bell Tower, Ponte Vechio and a visit to Piazza della Signoria. Learn about the quality and workmanship of two of this city's historic industries at demonstrations of Florentine leathercraft and 18-carat gold. Don't forget to try a gelato! Later enjoy dinner at the hotel.
Day 5: Florence – Verona – Venice (2 Nights)
Your journey continues north across the dramatic Apennine Mountains to Verona, the home of Shakespeare's star-crossed lovers. View the vast Roman Arena, where concerts are still held regularly each year. Stop and view Juliet's balcony in a courtyard which has become a popular tourist site for the tragic story of the Montague and Capulet family feud. Head east to the magical, romantic city of Venice.
Day 6: Venice Orientation and Free Time
Watch the Venetian craftsmen at work creating local specialities at a glassblowing workshop on Giudecca Island. Then cruise by private launch to St. Mark's Square in the heart of Venice. Admire the Bridge of Sighs, the ornate Doge's Palace and the Byzantine Basilica of St. Mark. Spend free time afterwards exploring this fascinating city or perhaps take a cruise across the lagoon to Burano for a relaxing farewell dinner. Burano is an island in the Venetian lagoon known for its brightly coloured houses.
Day 7: Depart Venice
This morning say 'arrivederci' to Italy, your Travel Director and newfound friends at the end of an unforgettable holiday. Transfers are available to Venice Marco Polo Airport. Conditions apply.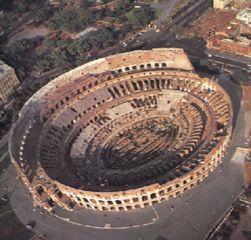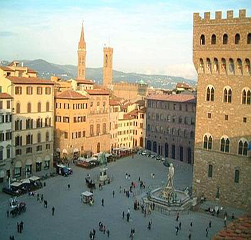 Rome: Hotel Ergife
Offering a quiet location and an outdoor swimming pool, Ergife Palace Hotel is 10 minutes' walk from Cornelia Metro Station in Rome. Its modern rooms feature free wired internet access and an LCD TV. Surrounded by floral gardens and palm trees, the Ergife Palace has plenty of deckchairs around its swimming pool. It provides live music and entertainment in some evenings during summer. This 4-star hotel was originally built in the 1980s and has been completely renovated. It features an impressive lobby with a glass ceiling. Free Wi-Fi is available in public areas. Rooms here are air conditioned and include satellite TV channels, a minibar and a balcony. Each one has a private bathroom with a hair dryer and toiletries. An American buffet is served in Le 4 Stagioni restaurant, which later offers traditional Roman and Italian dishes. The nearest bus stop is 200 metres away and you can take 2 short bus rides to reach the historic centre. Vatican City is just 4 km away.
Florence: Novotel Firenze Nord
or Villa Stanley
Hotel Villa Stanley in Sesto Fiorentino is an elegant and historical residence, just 15 minutes' drive from the historical centre of Florence. The peacefulness of the centuries old park, the pool, the tennis courts and the impeccable service, all guarantee a magnificent and relaxing atmosphere, perfect for all occasions, whether guests are travelling for business or pleasure. Villa Stanley is located in a quiet and prestigious area of the Municipality of Sesto Fiorentino, perfectly connected with Florence's bus public transport system. What's more, in order to ensure maximum comfort and freedom of movement for its guests, Villa Stanley offers a free shuttle service, by reservation, which transports guests from the hotel to the centre of Florence. Hotel Villa Stanley includes a large car park where guests can leave their vehicle, enjoying the peacefulness of the Park which constitutes an oasis at the gateway to Florence. The hotel also includes a welcoming and light filled Restaurant, La Limonaia di Villa Stanley, with balconies overlooking the park and creative and traditional cuisine, with maximum attention to detail. The Villa Stanley experience involves a total immersion in an extremely relaxing natural environment, without compromising on the convenience of being close to the centre of the city of Florence.
Venice: Hotel Antony
The elegant and modern hotel in Venice in Italy is situated in a strategic position, only 3 minutes from Venice airport and 15 minutes from the city centre. This comfortable hotel in Venice Mestre offers an efficient and attentive service and panoramic views over the lagoon as well as a great position, just few minutes from Venice Marco Polo International Airport, from Venice city centre and the Casino. All the elegance and efficiency of an elegant hotel with spacious and elegant rooms and magnificent lagoon views. The property is in a strategic position both for leisure and business guests just three minutes from Marco Polo airport and ten minutes from the centre of Venice. This hotel in Venice in Italy has 114 large rooms with comfortable French beds and furnishings and offers the highest levels of service for all the comforts of a relaxing holiday. It also has a large and excellent restaurant which can seat 200 people.
Some interesting Italy Facts.
• Population: 61.3 million people live in Italy
• Capital: Roma (Rome), which is often called 'Eternal City', with 2.6 mio inhabitants and Italy's biggest city.
• Name: Repubblica Italiana (Italian Republic), Nickname: 'Bel Paese' which means beautiful country
• Government: Democracy, Republic
• Language: Italian as well as German, French and Ladin in some regions in Northern Italy.
• Literacy: More than 98% can read and write.
• Religion: mainly Christians (Roman Catholics 90%)
• Currency: 1 Euro=100 cents, before 2001 Italian Lira
• History: The country has a long history, as Rome its capital city today was founded in 753BC. After the Roman Empire broke down in 395AD, there were many separate kingdoms and city states. However, Italy became one nation only in 1861 and since then includes the islands of Sicily and Sardegna. It was a kingdom until 1946 after the second World War, where Italy sided with the German Nazis. Italy is founding member of the European Union (EU) and the NATO.
• Flag: The colors represent these virtues: hope (green), faith (white), and charity (red)
• Geography: In the North, the mountain range of the Alps separates Italy from the other European countries France, Switzerland, Austria and Slovenia. The highest mountain of Italy can be found in the Alps. It is the Monte Bianco, better known as Mont Blanc, which is 4,807m. There are many long and deep lakes in the North of Italy, bevor the country flattens in the Po Valley. The Po is Italys longest river. The Apennines are another big mountain range which go all along the boot and separate the East and the West of the country. In the South of Italy you will find Italy's three active volcanoes: Vesuvius near Naples, Etna on Sicily and Stromboli off the Coast of Italy. Italy is subdivided in 20 regions, like Tuscany, Veneto (around Venice) and Lazio (around Rome).