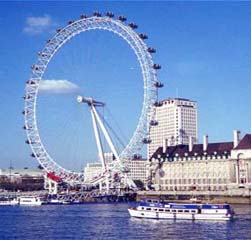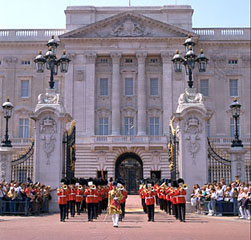 Airports
The main international airport is Heathrow. Gatwick airport is also serviced by some large international carriers. Heathrow is 24kms (approx 45-60 mins) from the centre of London while Gatwick is 45kms (approx 60-70 mins). There are numerous other International Airports around Britain including Stansted (56kms from Central London–approx 70 mins), Luton and London City airports which serve London, as well as large airports in Birmingham, Manchester, Glasgow and Edinburgh.
Electricity
The electrical current is 240volts/50 cycles. Power points take the British three prongs plug.
Getting Around
The quickest route into the city from Heathrow airport is with Heathrow Express train to Paddington Station which takes 15mins (21mins from Terminal 4); trains depart at 15mins intervals.
Alternatively, you can take the 'tube' or Underground train service. Heathrow has two Piccadilly Line underground stations with services operating every 5-10mins with an approximate travel time of 45mins to Central London.
The Airbus Heathrow Shuttle runs every 30 minutes between Heathrow Airport and central London on two routes between approximately 05:30 and 22:00hrs.
The most popular route into the city from Gatwick airport is the Gatwick Express train to Victoria Station. Trains depart approximately every 15mins and the journey time is 30–35 minutes.
There are numerous other International airports around Britain including Stansted, Luton and London City airports which serve London, as well as large airports in Birmingham and Manchester.
The most common way to tour England is by car as roads are all clearly signed. There is also a large railway network available throughout England with regular services to all destinations.
Handy Hints
The United Kingdom consists of four countries – England, Scotland, Wales and Northern Ireland. The union of these contrasting countries each with their equally colourful people makes for a unique travelling experience.
England is a very modern nation where freedom, democracy and tolerance of other cultures are values that are highly prized.
The big cities of London, Birmingham, Manchester and Liverpool are incredibly lively and fast paced, whereas the small towns and villages that dot the countryside are far more relaxed.
To complain about the weather is a British tradition, yet the moist and breezy oceanic climate has many compensations. Though grey days sometimes seem to prevail over sunny ones, change is frequent.
Health
There are no special health warnings or vaccinations required for visitors to England. It is advisable to take out comprehensive insurance cover and to consult your medical practitioner well in advance for advice and the latest health warnings.
Language
The most commonly spoken language is English.
Money Matters
The unit of currency is the Great British Pound (£) which is made up of 100 pence (p). Banks are the most reliable place to change money and generally open from 9.00am to 4.30pm Monday to Friday and 9.00am to 12.00pm on Saturday.
Passport Information
All visitors to England require a passport that is valid for at least six months from the date of entry.
Religion
England is a predominately Christian nation which has many different denominations represented. England has an official state faith in the form of an established church which is the Church of England (Anglican Church). The monarch (currently Queen Elizabeth II) is the head of the church and has been since the establishment of the church in the 16th century by Henry VIII.
There are many other religions represented in the UK including Islam, Hinduism, Judaism and Buddhism. All are free to practice their faiths openly.
Safety & Security
The UK is very safe and violent crime is rare. Police should be contacted if emergency assistance is required.
Tipping
The following is intended only as a guide to customary practice.
Our recommendations:
Hotels: Most hotel bills include a service charge, usually 10–12%. Where a service charge is not included, it is customary to give 10–15% of the bill to the staff who have served you and an optional amount to room staff.
Restaurants: Some restaurant bills include a service charge; where a service charge is not included it is customary to leave a tip of 10–15% of the bill.
Porterage: 50–75p per suitcase.
Taxis: 10-15% of the fare.