Day 1
LONDON – STONEHENGE GLASTONBURY – PLYMOUTH
Visit the ancient, mysterious Stonehenge, site of prehistoric pagan worship. Enjoy a scenic drive through the English countryside en route to Glastonbury. Discover the ruins of Glastonbury Abbey, once the grandest and richest Abbey in England and reputed to be the burial place of King Arthur. Later enjoy a Welcome Reception in a traditional English pub before arriving at your hotel.
Meal(s): (Welcome Reception) Hotel: Jurys Inn Plymouth
Day 2
PLYMOUTH – POLPERRO – TINTAGEL – BIDEFORD
Enjoy an orientation of Plymouth to see the Hoe and Mayflower Steps where the Pilgrim Fathers set sail. Why not take an optional cruise around famous Plymouth harbour before arriving in Polperro, a picturesque fishing village with its old cottages and narrow streets. Enjoy views of the ruined Tintagel Castle which is steeped in mystery and legend and said to be the birthplace of King Arthur. This evening arrive in the ancient seaport of Bideford. Dine tonight at your hotel.
Meal(s): (Full Breakfast / Dinner) Hotel: Durrant House
Day 3
BIDEFORD – BATH – STRATFORD-UPON-AVON
Visit the world famous Roman Baths, a magnificent temple built around Britain's only hot springs. After a scenic drive through the Cotswold countryside, enjoy a visit to Shakespeare's Birthplace and Visitor Centre and see Anne Hathaway's cottage.
Meal(s): (Full Breakfast) Hotel: The Falcon Hotel
Day 4
STRATFORD-UPON-AVON – CHESTER – LIVERPOOL
See the ancient city walls, famous Tudor 'Rows' and fascinating Roman ruins in Chester on your orientation walk of the town. Enjoy a Unique Insight into the life of the local Town Crier – an esteemed position which dates back to medieval times. Later arrive in the exciting and friendly city of Liverpool.
Meal(s): (Full Breakfast) Hotel: Jurys Inn Liverpool
Day 5
LIVERPOOL – YORKSHIRE DALES – YORK – BRONTË COUNTRY
A scenic drive through Lancashire brings you to Skipton on the edge of the picturesque Yorkshire Dales. Skipton is a quaint market town which straddles the Leeds – Liverpool Canal which was built to transport goods between these cities during the Industrial Revolution. For lunch enjoy a Be My Guest experience at a Country House in the Yorkshire countryside. Later arrive in York and see the famous Minster and walk along the 'Shambles'. This evening you can relax at your splendid country hotel.
Meal(s): (Full Breakfast / Be My Guest Dining) Hotel: Marriott Hollins Hall
Day 6
BRONTË COUNTRY – CAMBRIDGE – LONDON
See the magnificent architecture of King's College Chapel in the prestigious university city of Cambridge. Enjoy free time for lunch and a walk to the River Cam to see the famous Cambridge 'backs'. Arrive in London in the early evening at the end of your memorable holiday.
Meal(s): (Full Breakfast)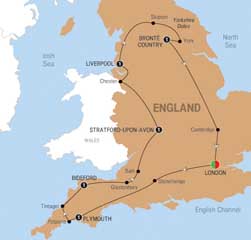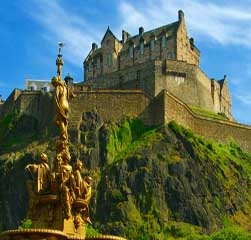 Plymouth: Jury's Inn Hotel
Jury's Inn hotel in Plymouth is perfectly situated in the centre of this beautifully historic and character filled city. It has all the amenities one would expect from a 21st century city, from Drake Circus Retail Park to the Theatre Royal. Yet, it retains all the charm that you would expect from a traditional seaside town, including Barbican Maritime Village and Continental style Sutton Marina. Hotel is located on Exeter Street, conveniently beside the historic quarter, Jurys Inn offers an easy 10 minute walk to the city centre (and bus stations) where Plymouth is yours to explore and enjoy. If you want explore outside Plymouth, the world-famous Dartmoor National Park is a 45 minute drive.
Bideford: Durrant House Hotel
Situated near the historical old port of Bideford with views over the Torridge estuary and beyond to the sandy beaches of Instow, this hotel is perfectly located to explore the beautiful rugged coastline, glorious sandy beaches and rolling countryside of North Devon. Whether you require a standard room for the night or a luxury weekend break, our choice of 125 bedrooms will not disappoint. Marble en-suite bathrooms, double jacuzzis and romantic four poster suites are available with luxurious toiletries, white fluffy towels and attention to detail to make this hotel in extra special.
Stratford upon Avon: The Falcon Hotel
Only a short stroll from our front door to the newly reopened Royal Shakespeare theatre, the hotel sits ideally in the heart of historic Stratford-upon-Avon, the birthplace of William Shakespeare. The Legacy Falcon Hotel comprises a quintessential 16th century residence featuring decorative half-timbering and original slanted windows totally encapsulating Tudor charm whilst harmonising with the contemporary bedrooms and stunning reception areas. Relax in front of real open fires during the autumn and winter or sample a traditional afternoon tea or delicious Ice-cream in the beautiful courtyard garden in the spring and summer. Providing a unique base for exploring everything magical about the bard including; Anne Hathaway's Cottage, Nash's House and Shakespeare's birthplace itself, not forgetting the world famous Royal Shakespeare Company Theatre which now offers backstage tours and the opportunity to view Stratford from the new observation tower.
Liverpool: Jurys Inn Hotel
Situated on the famous Liverpudlian docks, Jurys Inn's hotel in Liverpool is perfectly located for anyone visiting the city on a business trip, a city break or a family holiday. You can find us at Kings Waterfront, right opposite the Echo Arena and Convention Centre. Jurys Inn Liverpool is just a ten minute walk from Liverpool Central Train Station, and the Albert Dock is also right next door, offering a range of attractions including museums, tours, a handful of shops and a selection of bars, and all before you've even hit the city centre! Hotel has 310 stylish and spacious rooms, able to accommodate up to three adults, or a family of four (2 adults and 2 children under 12). We have large soft beds, en-suite bathrooms with complimentary toiletries, and flat screen TVs with Freeview – Jurys Inn Liverpool offers comfortable hotel rooms whether visiting for business or pleasure. Further room features include free WiFi, air-con, hair-dryers and extra pillows on request.
Bronte County: Hollins Hall Marriott Hotel
With its beautiful views and tranquil surroundings, Hollins Hall, A Marriott Hotel & Country Club is the rural gateway to traditional Yorkshire hospitality. Situated in over 200 acres of grounds, it is the ideal place to base yourself from when discovering what the local area has to offer. Located 30 minutes from the city centres of Leeds and Bradford, 4 miles from Leeds/Bradford Airport and with the M62 within easy reach. The spacious guest rooms feature either 1 or 2 double beds, amenities such as hairdryer, tea & coffee making facilities and comfortable work areas. Relax and rejuvenate in our sauna or take a refreshing swim in our indoor heated pool. And, challenge yourself on our championship golf course, which is recognised as one of the best courses in Yorkshire.
Airports
The main international airport is Heathrow. Gatwick airport is also serviced by some large international carriers. Heathrow is 24kms (approx 45-60 mins) from the centre of London while Gatwick is 45kms (approx 60-70 mins). There are numerous other International Airports around Britain including Stansted (56kms from Central London–approx 70 mins), Luton and London City airports which serve London, as well as large airports in Birmingham, Manchester, Glasgow and Edinburgh.
Electricity
The electrical current is 240volts/50 cycles. Power points take the British three prongs plug.
Getting Around
The quickest route into the city from Heathrow airport is with Heathrow Express train to Paddington Station which takes 15mins (21mins from Terminal 4); trains depart at 15mins intervals.
Alternatively, you can take the 'tube' or Underground train service. Heathrow has two Piccadilly Line underground stations with services operating every 5-10mins with an approximate travel time of 45mins to Central London.
The Airbus Heathrow Shuttle runs every 30 minutes between Heathrow Airport and central London on two routes between approximately 05:30 and 22:00hrs.
The most popular route into the city from Gatwick airport is the Gatwick Express train to Victoria Station. Trains depart approximately every 15mins and the journey time is 30–35 minutes.
There are numerous other International airports around Britain including Stansted, Luton and London City airports which serve London, as well as large airports in Birmingham and Manchester.
The most common way to tour England is by car as roads are all clearly signed. There is also a large railway network available throughout England with regular services to all destinations.
Handy Hints
The United Kingdom consists of four countries – England, Scotland, Wales and Northern Ireland. The union of these contrasting countries each with their equally colourful people makes for a unique travelling experience.
England is a very modern nation where freedom, democracy and tolerance of other cultures are values that are highly prized.
The big cities of London, Birmingham, Manchester and Liverpool are incredibly lively and fast paced, whereas the small towns and villages that dot the countryside are far more relaxed.
To complain about the weather is a British tradition, yet the moist and breezy oceanic climate has many compensations. Though grey days sometimes seem to prevail over sunny ones, change is frequent.
Health
There are no special health warnings or vaccinations required for visitors to England. It is advisable to take out comprehensive insurance cover and to consult your medical practitioner well in advance for advice and the latest health warnings.
Language
The most commonly spoken language is English.
Money Matters
The unit of currency is the Great British Pound (£) which is made up of 100 pence (p). Banks are the most reliable place to change money and generally open from 9.00am to 4.30pm Monday to Friday and 9.00am to 12.00pm on Saturday.
Passport Information
All visitors to England require a passport that is valid for at least six months from the date of entry.
Religion
England is a predominately Christian nation which has many different denominations represented. England has an official state faith in the form of an established church which is the Church of England (Anglican Church). The monarch (currently Queen Elizabeth II) is the head of the church and has been since the establishment of the church in the 16th century by Henry VIII.
There are many other religions represented in the UK including Islam, Hinduism, Judaism and Buddhism. All are free to practice their faiths openly.
Safety & Security
The UK is very safe and violent crime is rare. Police should be contacted if emergency assistance is required.
Tipping
The following is intended only as a guide to customary practice.
Our recommendations:
Hotels: Most hotel bills include a service charge, usually 10–12%. Where a service charge is not included, it is customary to give 10–15% of the bill to the staff who have served you and an optional amount to room staff.
Restaurants: Some restaurant bills include a service charge; where a service charge is not included it is customary to leave a tip of 10–15% of the bill.
Porterage: 50–75p per suitcase.
Taxis: 10-15% of the fare.