Nile Cruise & Lake Nasser to Abu Simbel
Departures Every Sunday
Day 1 – Sunday – Arrive Luxor
Meet & Assistance, transfer to Sonesta St George Hotel for overnight
Day 2 – Monday – Luxor
Embarkation on Mirage Nile Boat
Visit the East Bank (Temple of Karnak & Luxor Temple)
Day 3 -Tuesday – Edfu
Visit the West Bank (Valley of the Kings, Temple of Queen Hatshepsut & the Colossi of Memnon)
Dinner on board. Overnight in Edfu
Day 4 – Wednesday – Aswan
Visit Horus Temple in Edfu
Day 5 – Thursday – Aswan
Visit the High Dam, Unfinished Obelisk and Philae Temple
Afternoon visit the Botanical Garden by Felucca
Day 6 – Friday – Aswan
Disembark, transfer to Lake Nasser Port
Embark on M/S Eugenie Cruiser
Visit to Kalabsha temple, Beit El Wali, and the kiosk of Kertassi
Afternoon tea is served in the lounge
Dinner and overnight on board in the Aswan Harbour
Day 7 – Saturday
Sailing to Wadi El Seboua and cocktail while passing the Tropic of Cancer
Visit to Wadi El Seboua temple, the temple of Dakka and temple of Meharakka
Dinner and overnight aboard
Day 8 – Sunday
Breakfast followed by morning visit to the temples of Amada and Derr as well as the tomb of Penout
Visit the citadel of Kasr Ibrim. (Tour is conducted from the ship's sundeck as entrance to the site is not permitted)
Visit the Abu Simbel temples
Attend the Sound & Light show at Abu Simbel temple (optional extra)
Candlelight dinner on board and overnight
Day 9 – Monday
Disembarkation. Transfer to Abu Simbel airport for domestic flight to Cairo
Meet and assistance upon arrival, transfer to hotel in Heliopolis Cairo
Day 10 – Tuesday – Departure
Transfer to Cairo airport . Depart Cairo 1610 arrive Larnaca 1730
Package Includes
Flights Larnaca – Cairo – Luxor //Abu Simbel – Cairo – Larnaca with Egypt Air
Meet and assistance at all airports
All private transfers throughout (Luxor, Aswan, Abu Simbel and Cairo)
1 night 5* Sonesta St George hotel in Luxor twin share on BB basis
4 nights in twin cabin on  5* Mirage Nile Cruiser with sightseeing along the Nile
Breakfast, Lunch and Dinner on Mirage Nile Cruiser
Guided tours and entrance fees
3 nights in twin cabin on 5* Eugenie Lake Nasser Cruiser with sightseeing along the Lake
Breakfast, lunch and dinner on the Eugenie Cruiser
1 night in twin share at 5* Intercontinental City Stars on BB basis
Services of local representatives
Excluded:
Entry visa to Egypt. Costs usd20 per person for most Europeans
Drinks with meals on cruise
Customary tips to driver, guides, cruise staff
Optional supplements:
Nile View room at St George hotel in Luxor – euro50 in total for 1night
Suite on board the Mirage Nile Boat – euro395 in total for 4 nights
Upper deck cabin on board the Eugenie euro114 in total for 3 nights
Sound & Light Show at Abu Simbel – euro30 per person
Flight Details
Day 1  Sunday   Larnaca      Cairo     1830  2000
Day 1  Sunday   Cairo          Luxor    2250  2350
Day 9  Monday  Abu Simbel  Cairo    1315  1555
Day 10 Tuesday Cairo         Larnaca 1610 1730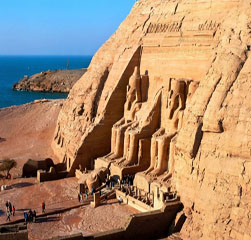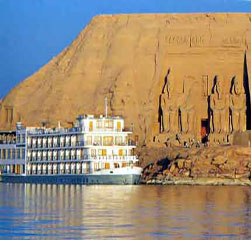 Accommodation:
1 night   5* Sonesta St George Hotel, Luxor
4 nights  5*Mirage Nile Boat – sailing from Luxor to Aswan
3 nights  5*Eugenie Lake Nasser boat – sailing from Aswan to Abu Simbel
1 night   5*Intercontinental City Stars (Heliopolis)
Things to know about Egypt
VISA'S:  Visas are required for all nationalities.  Many country's citizens can obtain one upon entry however citizens of some countries are required to obtain their visa from a consulate before arriving. It would be best to check with the closest Egyptian consulate or Embassy to be certain.
MEDICAL REQUIREMENTS: Normally no immunizations are required or needed. If you have recently been traveling in an area known to be experiencing problems you should obtain a health certificate before arrival.  While inEgypt drink the filtered bottle water or the mineral water.  Also be sure to bring any prescriptions you might need.  And don't forget to prepare for the "Pharaoh's curse" with a bottle of Imodium or similar. Be careful of fresh fruit juices as they may be diluted with local non-filtered water.
CURRENCY: The local currency is the Egyptian pound (LE). 1 LE = 100 piasters. Banks are opened in major hotels for 24 hrs. Credit cards are widely used in major hotels & restaurants. Charges will be in Egyptian pounds. The exchange rate floats and changes daily.  You can check the current rate on-line at http://money.cnn.com/markets/currencies/ . You do not need to change money prior to arrival as most currencies are accepted, especially US dollars, however best to keep some local currency (Egyptian pounds) for any antiquity sites visited.
CLIMATE: The best season is from October through May when the temperature is Cairo is comfortable in the daytime, and cool or even cold at night. Weather in Upper Egypt, Luxor, Aswan and Abu Simbel is comfortably warm. During the summer months in Cairo is hot and dry, upper Egypt is extremely hot, sightseeing is done early in the morning. Average temperatures can be:
| | | | |
| --- | --- | --- | --- |
| | Cairo | Aswan | Luxor |
| January | 45/67 F | 52/76 F | |
| | 7/19 C | 11/24 C | |
| March | 55/79 F | 59/89 F | |
| | 13/26 C | 15/32 C | |
| May | 65/95 F | 72/101 F | |
| | 18/35 C | 22/38 C | |
| July | 73/99 F | 80/110 F | |
| | 23/37 C | 27/43 C | |
| September | 70/95 F | 76/105F | |
| | 21/35 C | 24/41 C | |
| November | 55/80 F | 60/89 F | |
| | 13/27 C | 16/32 C | |
CLOTHING: Modesty in clothing should be observed.  Women should cover their arms when visiting mosques. Bring comfortable walking shoes for sightseeing and walking on desert sand. Sneakers are needed and no open sandals as it is sandy. Sunglasses as well as hats and scarves are recommended as protection against the strong sun. Preferably no shorts in the cities. Beaches are like beaches all over the world, much more casual and laid back so shorts can be worn.  While at hotels wear a cover wrap to/from the pool if you have to go through the hotel to reach it.
ELECTRICITY: 220 volts, 50 cycles AC in Cairo. Wall plugs are the round two pronged European type. No adapters or transformers are provided best to bring your own.
HOLIDAYS: The weekly day of rest is Friday. Islam is the principal religion of Egypt. So the "weekend" is generally Friday and Saturday. Sunday is a normal business day although a good percentage of the population is Eastern Orthodox Christian.  Islamic Holidays are based on the lunar calendar and change annually.   The Eastern Christian holidays are generally different than the western Christian ones.  For instance Christmas is on January 06.  Tourist attractions (antiquity sites) are open every day except New Years day.  Some sites that are of an active religious type (monasteries, mosques, etc.) close for their appropriate sabbath.
TIPPING : Tipping is customary in Egypt at hotels , restaurants , Nile Cruises and to guides . It depends on the passenger's own evaluation of the services he is getting everywhere. (See guideline below)
| | |
| --- | --- |
| Guide: | |
| Full Day |  $15 (2 persons per day) |
| Driver: | |
| Transfer from airport or train station to hotel or vice versa | $2 (2 persons per day) |
| Full Day Tour  | $5 (2 persons per day) |
| Restaurant's waiters | $1 (2 persons per meal) |
| Porters at hotels | |
| Check In | $1 (2 persons per day) |
| Check Out   | $1 (2 persons per day) |
| Nile cruise: | |
| Crew – excluding the guide |  $8 (2 persons per day) |
| Guide  | $6 (2 persons per day) |
| Felucca ride:  |  $4 (2 persons per day) |
| Airport assistant   | $5 (2 persons per day) |