Cruises from Greece to the Greek Islands. Aegean cruises are a wonderful way of taking in a number of fascinating sights with a minimum of hassle.
Sailing Itinerary
Refer to the Price list for the sailing itineraries.
Ask us for the latest updated special offers with Celestyal Cruises. Great value for money as this is an All Inclusive cruise, including all shore excursions, meals, drinks and port taxes!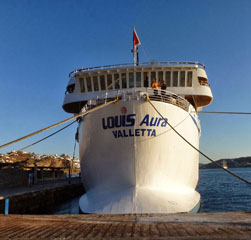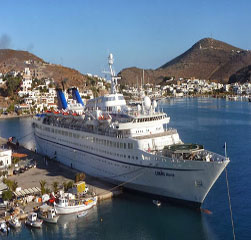 Celestyal
Cabin descriptions and deck location (colour coded) can be found at the end of the price list.
Celestyal Olympia and Celestyal Nefeli
Capacity: 1664 passengers in total
Cabins: 724 cabins with en suite bathrooms, TV, radio, air conditioning
Facilities:
Lido Café, Pool Grill, Seven Seas Restaurant, Mast Bar, Lido Bar - Sky Bar, Blake's, Can Can Lounge, Royale Casino, Clipper Bar, Oklahoma Lounge, Swimming Pools, Saunas, Gym, Kid's Club, Video Arcade, Beauty Salon, Reception, Destination Services, Library, Duty Free, Travel Value Shop, Internet Corner, Medical Centre
Equipped with: Satellite telephone, full air conditioning throughout the ship.