BUDAPEST – MOHACS – OSIJEK – BELGRADE – ORSOVA – NOVI SAD – ILOK – VUKOVAR – MOHACS – KALOCSA – BUDAPEST
DAY 1: BUDAPEST
Passengers are welcome to board the ship in Budapest. After comfortably settling into your cabin, enjoy a welcome cocktail with the crew before dinner. We'll begin to cruise to Mohacs. Enjoy dinner and an evening of onboard entertainment. We'll cruise throughout the night.
DAY 2: MOHACS – OSIJEK – BELGRADE
The morning will be spent cruising. We'll then set out on an optional excursion to Osijek. Our ship will start sailing to Belgrade. After dinner, enjoy an evening of onboard entertainment.
DAY 3: BELGRADE – ORSOVA
Join us on an optional excursion to Belgrade, cradle of the Austro-Hungarian, Ottoman and Slavic cultures. Free afternoon to visit the city. Optional coach transfer (book and pay on board) to and from the town centre. Enjoy dinner and an evening of traditional Serbian entertainment on board. Our ship will start sailing to Orsova.
DAY 4: ORSOVA (Romania) – The Iron Gates – NOVI SAD (Serbia)
Join us on an optional excursion to the spa towns of B?ile Herculane and Or?ova. Our ship will start sailing through the Iron Gates. Tonight is our festive gala evening.
DAY 5: NOVI SAD – ILOK – VUKOVAR – MOHACS
We'll set out on an optional visit the Krušedol Monastery, as well as the small city of Sremski Karlovci.
We'll then head to Ilok on an optional excursion to visit the medieval city and taste some local products. When our tour is finished, we'll return to the ship in Vukovar. After dinner, enjoy an evening of onboard entertainment. Our ship will start sailing to Mohacs throughout the night.
DAY 6: MOHACS – KALOCSA
Join us on an optional excursion to Pécs, a 2000-year-old jewel of a city.
The afternoon will be spent cruising. We'll head out on an optional excursion to the Puszta. Our ship will then start sailing to Budapest.
DAY 7: BUDAPEST
Early morning arrival and optional tour of Budapest. The afternoon will be free or dedicated to an optional excursion to Gödöll? Palace. Tonight, join us on an optional tour of Budapest by night. We'll remain in port overnight.
DAY 8: BUDAPEST
Enjoy breakfast on board before disembarking at 9 a.m. End of our services.
For navigational safety reasons, the captain and the crew are the only authorized persons who can modify the cruise itinerary. Alcohol can be harmful to your health. Please drink in moderation.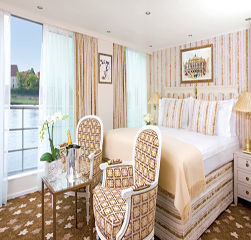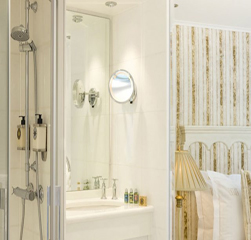 Price per passenger in double-occupancy cabin on main deck. This price can vary according to departure date, cabin deck, ship category and/or single-occupancy (additional fees).
2019 departures - to be advised
Availabilities
Departure date Arrival date Ship Anchors
Reductions:
Child discount (2-9 years) : - 20%
3rd person discount in triple cabin : - 30%
Including:
Your cruise with all meals from dinner on the first day to breakfast on the final day - drinks including water, wine, beer, fruit juices and coffee served by CroisiEurope during meals on board (excluding champagne and wines on the wine list) - accommodation in double-occupancy cabin with shower in private bathroom - onboard entertainment - the assistance of our onboard host/hostess welcome cocktail - gala evening - traditional entertainment in Belgrade - repatriation insurance - all port fees.
Excluding:
Drinks on the wine list, champagne at the bar, drinks served during excursions or transfers - transfers between the airport and port - optional excursions (book and pay for on board or at your travel agency) - cancellation and baggage insurance - personal expenses.
Formalities:
Valid national identity card or passport compulsory. Non-EU nationals are requested to consult their embassy or consulate.
MS Vivaldi
The Vivaldi is a friendly and comfortable ship with facilities that include a restaurant, lounge bar and dance floor, small library, gift shop and large sundeck. Passengers on the Vivaldi tend to be 45+ and Europeans & Americans.
Cabins: All cabins are located above water level and offer panoramic views of the scenery. Spacious and comfortable, they have twin beds or a double bed, with a bathroom (shower, WC and washbasin) and towels provided onboard. They are also equipped with satellite television, radio, hairdryer and safe. There is one cabin designed for the physically disabled.
There is a lift on the MS Vivaldi.
Dining: Buffet breakfast, lunch and 3 course dinner.
Entertainment: Variety of entertainment including quizzes, games and occasional music & dancing.The Sun Deck is equipped with recliners and deck chairs. There is a small external swimming pool.
Dress Code: Casual and comfortable during the day. More elegant clothing may be worn in the evening.
VIVALDI Overview
She may be another in a long-line of successful near-sister ships but Vivaldi has a distinctive personality all her own. Launched in 2009, the 361-foot long vessel has a decidedly modern, elegant look to her public spaces and staterooms.
Dark wood accents are offset by vibrant yellows and blues throughout the vessel, giving her the appearance of a trendy boutique hotel.
VIVALDI Staterooms
Staterooms aboard Vivaldi are modern and bright. Staterooms on Upper Deck feature French Balconies.
Staterooms aboard Vivaldi are modern and bright. Staterooms on Upper Deck feature French Balconies.
A total of 88 passenger staterooms are available aboard Vivaldi. All staterooms onboard offer the same amount of space and personal amenities, with the exception of a mobility-impaired stateroom located on Middle Deck. Staterooms are small but functional, and offer enough storage space for two guests taking a weeklong journey.
Each stateroom features twin or double beds, bathroom with shower, toilet and sink/vanity area, a hairdryer, a safe and satellite television.
All staterooms on Upper Deck feature French Balconies, while staterooms on Middle Deck have fixed picture windows. Those staterooms that are located on Lower Deck have half-height windows.
VIVALDI Public Areas
MS Vivaldi features a main Restaurant located all the way forward on Main Deck. Meals are served buffet-style for breakfast, with a set menu that changes daily for lunch and dinner. The Restaurant has a noticeably more modern feel than some of Vivaldi's earlier sister-ships, with trendy chairs, tables and fixtures.
One deck up, the ship's Main Lounge features 180-degree Panoramic windows offering views of the Danube and Rhine rivers. With a full-service bar, it's a great place to relax and enjoy newfound company. The Lounge features plenty of seating options and boasts an attractive color palette with leather-wrapped lounge chairs.
All the way aft on Upper Deck is the Panorama Bar, a small gathering space overlooking the outdoor terrace situated on the stern of Vivaldi.
On the Sun Deck above, guests can admire the passing views of Europe's most storied waterways with outdoor deck space that stretches from bow to stern.