Nicosia Walking tour in Nicosia
Every Thursday:
Nicosia within the walls
Organised every Thursday at 10:00, the walking tour aims to give an overall picture of the city within the walls and how it has evolved through the centuries. Special emphasis is paid to the town's architecture from the medieval years to the present and to some of its churches. Visitors also have the chance to visit workshops and shops where craftsmen such as candle makers, blacksmiths, chair-makers, cobblers, coppersmiths and tailors remain true to their traditional crafts.
Start Point: CTO Information Office at Laiki Geitonia
End Point: CTO Information Office at Laiki Geitonia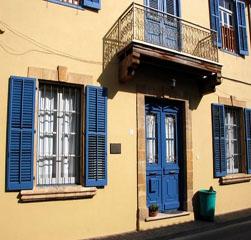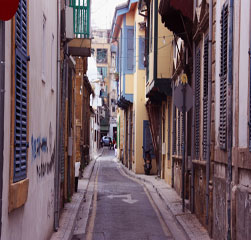 Offered as Free by the Cyprus Tourist Guides Association and the Municipality of Nicosia
Limassol: South Cyprus -
4* Superior - Mediterranean Beach Hotel
The Mediterranean Beach Hotel is located on the southwest coast of Cyprus on the Bay of Limassol. The hotel is set in landscaped gardens looking out over a blue flag sandy beach and has a commanding view of the hotel's split level swimming pool, terraced gardens and the Mediterranean Sea. It is a 10 minute drive, approximately 8 kilometres, from the town centre of Limassol which offers visitors all the facilities of a major town. The hotel itself is surrounded by tourist amenities with shops, restaurants and bars and just 40 minutes drive away are two major golf courses. Larnaca International Airport is located 63 kilometres from the hotel and Paphos International Airport is 60 kilometres away, both approximately a 45 minute drive. The Mediterranean Beach Hotel offers a wide variety of accommodation with inland, pool or sea views and caters for families and couples of all ages. There are six restaurants offering fine or casual dining, three bars, a snack bar, full conferencing facilities, outdoor and indoor swimming pools, a health club with gym and spa facilities and a sandy beach.
Paphos - Western Cyprus
4* Superior Athena Royal Beach Hotel (adult focus)
Athena Royal Beach Hotel is an adult-focused, four star, waterfront hotel in Kato Paphos. Places of archaeological interest, restaurants, bars and shops are located at a convenient short distance. A few metres away from the hotel entrance is a bus stop and taxis are always available. Parking in the hotel car park is free for guests.
The resort is situated 15km away from the Paphos airport and 140 km from Larnaca airport. Two excellent golf courses are within a short driving distance. All the rooms offer large balconies with majestic views of the sea or of the hotel's extensive gardens.
Room facilities include air conditioning and heating, flat screen LCD satellite TV and radio, bathrobes and slippers, safety deposit boxes, fridge, hairdryer, ironing, espresso machine as well as tea and coffee making facilities.
The leisure facilities of this hotel comprise 3 freshwater swimming pools, indoor and outdoor Jacuzzis, a floodlit tennis court, a 24-rink green bowls court and mini golf. Enjoy some fine dining at the hotel's varied theme nights and even a romantic candlelit dinner!
In the hotel spa there is a heated pool, saunas, steam bath, well equipped fitness room, and a hairdressing salon. A good choice of professional massages as well as facial and body treatments are available.
Larnaca - Eastern Cyprus
4* Superior Sun Hall Hotel - City Centre Hotel
The stylish, contemporary beach side hotel with prompt service, expansive meeting and event facilities, supreme hospitality and service, a wealth of desirable dining options and hotel amenities, will appeal to families and business professionals alike. The artistic interiors add a lavish welcome atmosphere to the hotel; the parquet floor, the white marble, the elegant wooden furnishings, all create a homely atmosphere.
With 113 guestrooms and suites, the hotel is situated in the heart of the city, at the central coastal promenade. Sun Hall Hotel reflects the contemporary style, through its deluxe accommodation with all rooms equipped with international standard facilities and amenities: mini bar and personal safe, high speed internet connection, satellite TV, air conditioning and private balcony. Superior rooms are particularly spacious, featuring additional seating arrangements.The Sun Hall Hotel in Larnaca, combines indulgent four star accommodation, with first-class customer service, for guests demanding the very highest standards of hospitality.
Cyprus General Information:
 Area :
9,250 sq km (of which 3,355 sq km are in the Turkish Occupied Cypriot area) Situated at the northeastern end of the Mediterranean basin, Cyprus is the third largest island.
Currency: EURO
Local Time: +2 on GMT
Main Language:
Greek and Turkish are the official languages. English is widely spoken.
Population (end 2009): 796,740
Capital : Nicosia
European Union:
Since May 01, 2004 Cyprus is a member of the European Union, and in 2008 the Eurozone.
Electricity:
The supply in Cyprus is 240 volts. Sockets are usually 13 amp, square-pin in most buildings.
Shopping:
Locally produced items, which are popular to visitors, include leather goods, woven goods, ceramics, copperware, handmade silverware and jewellery, baskets and the famous traditional hand-made Lefkaritika lace. Shoes, shirts, imported textiles, spectacles and watches are value for money. VAT ( Value Added Tax) is charged on the purchase of almost all goods and services. Foreign non-EU visitors to Cyprus can ask VAT refund on purchases over EUR100.
Cuisine:
Gourmets will particularly appreciate what Cyprus has to offer, as Cyprus cuisine consists of dishes that are very rich in taste and unique in specialities. Within the very large range of Cypriot cuisine, the three favourites are: Meze", a rich collection of more than 20 different appetizers and savouries; "Tava", a lamb stew with plenty of onions and tomatoes and "Stifado", a stew of beef or hare, cooked with vinegar, onion and spices. The products of local marine aquaculture, seabream (tsipoura), seebass (lavraki) and prawns are becoming popular among the Cypriots and the tourists. Cyprus wines, famous in antiquity and throughout the Middle Ages, are becoming increasingly competitive in the International market
 Transport: Flights:
Visitors arriving in Cyprus by air, may enter the Republic only through the International Airports of Larnaka and Pafos. Flight are available from GCC countries through Cyprus Airways, Emirates Airlines, Etihad, Egypt Air, Royal Jordanian and Gulf Air. Flights are also available from almost all European countries through Cyprus Airways, British Airways, Lufthansa, Austrian, Alitalia, Aegean, KLM, Air France, Air Malta and other low cost or chartered flights. From United States American airlines and United have code shared agreements with many European airline partners.
 Cyprus Domestic Transportation Services:
One can travel around Cyprus either by bus or by taxi or by rented car. There are Interurban buses (various bus companies link all major towns with daily routes at specified intervals), Rural buses (connecting villages with nearest towns), Urban buses (operate frequently during daytime in certain tourist areas).
 Taxi Services:
Such as Interurban service taxi (shared with other passengers, provides connection between all major towns, every half hour). Other services include Rural taxis, Urban taxis (24 hours service provided in all towns).
Car Rentals:
Visitors can drive by producing valid international driving licence or, their national driving licence. Major self-drive car rental firms have offices in all towns as well as at the Larnaka International Airort. Traffic moves on the left hand-side of the road.
Entry Visa:
Visas are issued by the Embassies and General Consulates of the Republic of Cyprus and additionally by the Cyprus High Commissions / Embassies.
Average Climate:
Cyprus enjoys an intense Mediterranean climate, with long dry summers and mild winters, separated by short autumn and spring seasons. See the following chart that represents the months of the year and the number of days with rain and the average duration of sunshine per day:
Tipping:
In Cyprus, island, a 10% service charge is sometimes added to a restaurant bill; if not, then a tip of a similar percentage is expected. Taxi drivers and hotel porters always appreciate a small tip. Bargaining is not normally part of the shopping scene in Cyprus, neither in the North nor the South. 
Money:
The Republic's unit of currency is the Euro (€). Euro notes come in denominations of 5, 10, 20, 50, 100, 200 and 500. It is often difficult to get change for a €500 note. One euro is divided into 100 cents. Coins of 1, 2 and 5 cents are copper-coloured; coins of 10, 20 and 50 cents are gold-coloured; 1 and 2 euro coins are gold-and-silver coloured.
Banks in Cyprus exchange all major currencies in either cash or travellers cheques.
ATM's:
You will find ATMs in most towns and in most larger villages throughout the Republic of Cyprus.
Credit cards:
Credit cards can be used in stores, restaurants, supermarkets and petrol stations. In the latter, you can even buy petrol after hours with your credit card from automatic dispensers.
History:
Situated at the maritime crossroads of the eastern Mediterranean basin, Cyprus has a rich and varied history. Many invaders, settlers and immigrants have come here over the centuries, and the island has seen Greeks, Romans, Byzantines, Lusignans, Genoese, Venetians, Ottomans, British and Turks seek to take a part of Cyprus for themselves. Cypriots, whether Greek or Turkish, are proud of their nation and feel a strong sense of national identity. The division of their island in 1974 is viewed by many as a temporary setback, and Cypriots look to the day when Cyprus will be a united island once again.