Kakopetria is a village south-west of the capital Nicosia and is one of the most popular destinations on the island. The village has a natural beauty which is one of its main attractions and when the weather is at its peak in the summer, there is no where more stunning. This village is perfect for those who want to spend a few weeks relaxing in somewhere very different to home.
Those looking for a busy beach resort will not find this here as this is very much a medieval town, but it does have its newer resort which is a bit more up to date. Kakopetria holidays are popular with families looking for a peaceful and relaxing break in the sun. So if you fancy a week or two relaxing in the beautiful sunshine, holidays to Kakopetria would be a good choice!
The Byzantine church is well worth visiting, as is the 16th Century Church of the Theotokos. This village is rich in history so it is worth taking walks in the surrounding countryside to really find out what is on offer. There are also plenty of fruit orchards, vineyards and ancient churches just waiting for you to explore but for those not wanting to explore the village's history, there are other attractions on offer.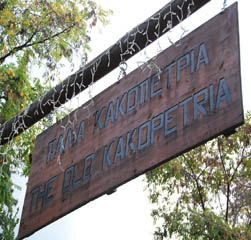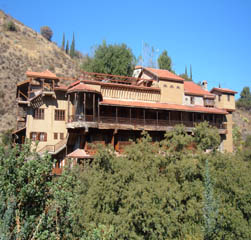 Cyprus General Information
Area : 9,250 sq km (of which 3,355 sq km are in the Turkish Occupied Cypriot area)
Population : 796,740 (July 2009 est.)
Capital : Nicosia
Languages : Greek, English, Turkish
Currency : EURO
Government type : republic
Climate : temperate; Mediterranean with hot, dry summers and cool winters
Tipping
In Cyprus, island, a 10% service charge is sometimes added to a restaurant bill; if not, then a tip of a similar percentage is expected. Taxi drivers and hotel porters always appreciate a small tip. Bargaining is not normally part of the shopping scene in Cyprus, neither in the North nor the South.
Money
The Republic's unit of currency is the Euro (€). Euro notes come in denominations of 5, 10, 20, 50, 100, 200 and 500. It is often difficult to get change for a €500 note. One euro is divided into 100 cents. Coins of 1, 2 and 5 cents are copper-coloured; coins of 10, 20 and 50 cents are gold-coloured; 1 and 2 euro coins are gold-and-silver coloured. 
Banks in Cyprus exchange all major currencies in either cash or travellers cheques.
Cyprus entered the euro zone in 2008.
ATMs
You will find ATMs in most towns and in most larger villages throughout the Republic of Cyprus.
Credit cards
Credit cards can be used in stores, restaurants, supermarkets and petrol stations. In the latter, you can even buy petrol after hours with your credit card from automatic dispensers.
History 
Situated at the maritime crossroads of the eastern Mediterranean basin, Cyprus has a rich and varied history. Many invaders, settlers and immigrants have come here over the centuries, and the island has seen Greeks, Romans, Byzantines, Lusignans, Genoese, Venetians, Ottomans, British and Turks seek to take a part of Cyprus for themselves. Cypriots, whether Greek or Turkish, are proud of their nation and feel a strong sense of national identity. The division of their island in 1974 is viewed by many as a temporary setback, and Cypriots look to the day when Cyprus will be a united island once again.