Every Thursday. Valid until March 2020
Shared tours with English speakers from Larnaca, Ayia Napa or Protaras
Day tour to Paphos Western Cyprus via Curium Theatre – from Protaras, Ayia Napa or Larnaca
A trip that will take you back in time to the ancient Greek civilization!
Our first stop is Curium, one of the most important archaeological sites in the island. There you will have the chance to see the ancient Greco-Roman theater where gladiator games were held and the House of Eustolios with its mosaics and bath establishments. Driving towards Pafos, we stop at a viewpoint above Aphrodite's Rock, which is the legendary birthplace of Aphrodite, the Greek goddess of beauty and love. A short time will be given at the viewpoint for photos.
Once in Pafos, you will have the chance to visit the Archaeological Park and the House of Dionysus, which is famous for its unique and very well preserved mosaics.
Free time to relax, do some shopping and have lunch (optional extra) and enjoy the area surrounding Pafos Harbour with its fort.
Tours are shared with other English speakers and operate subject to enough participants. Please book a few days before, not too far in advance. Will reconfirm if operating 24 hours prior to tour date.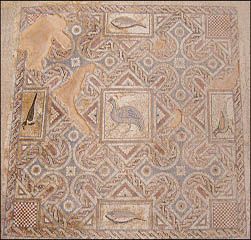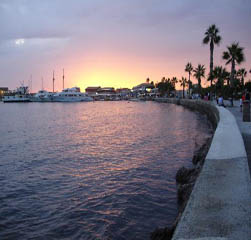 From €34 per person per tour in seat in coach tour together with other English speaking tourists
Children 2 - 12 years pay 50% on adult price
Price includes:
- pick up from your hotel in Protaras, Ayia Napa or Larnaca
- licensed tourist guide (English speaking)
- professional driver
- air conditioned coaches
- infants under 2 years free
Not Included:
- Entrance fees to sights
- lunches or drinks
- Tips to driver
Notes:
Monastery and Church visits require modest dress, no shorts or sleeveless shirts
Cyprus General Information
Area : 9,250 sq km (of which 3,355 sq km are in the Turkish Occupied Cypriot area)
Population : 796,740 (July 2009 est.)
Capital : Nicosia
Languages : Greek, English, Turkish
Currency : EURO
Government type : republic
Climate : temperate; Mediterranean with hot, dry summers and cool winters
Tipping
In Cyprus, island, a 10% service charge is sometimes added to a restaurant bill; if not, then a tip of a similar percentage is expected. Taxi drivers and hotel porters always appreciate a small tip. Bargaining is not normally part of the shopping scene in Cyprus, neither in the North nor the South.
Money
The Republic's unit of currency is the Euro (€). Euro notes come in denominations of 5, 10, 20, 50, 100, 200 and 500. It is often difficult to get change for a €500 note. One euro is divided into 100 cents. Coins of 1, 2 and 5 cents are copper-coloured; coins of 10, 20 and 50 cents are gold-coloured; 1 and 2 euro coins are gold-and-silver coloured.
Banks in Cyprus exchange all major currencies in either cash or travellers cheques.
Cyprus entered the euro zone in 2008.
ATMs
You will find ATMs in most towns and in most larger villages throughout the Republic of Cyprus.
Credit cards
Credit cards can be used in stores, restaurants, supermarkets and petrol stations. In the latter, you can even buy petrol after hours with your credit card from automatic dispensers.
History
Situated at the maritime crossroads of the eastern Mediterranean basin, Cyprus has a rich and varied history. Many invaders, settlers and immigrants have come here over the centuries, and the island has seen Greeks, Romans, Byzantines, Lusignans, Genoese, Venetians, Ottomans, British and Turks seek to take a part of Cyprus for themselves. Cypriots, whether Greek or Turkish, are proud of their nation and feel a strong sense of national identity. The division of their island in 1974 is viewed by many as a temporary setback, and Cypriots look to the day when Cyprus will be a united island once again.