Tour to Paphos and Kourion – Trip from Limassol
Every Wednesday. Valid until April 2020 (shared tour)
Shared tour with English speaking guide
Departure 08.00 return approx. 16.30
First stop is the ancient city of Kourion and the most spectacular site is the Greco-Roman theatre, which has been completely restored and is used today for open air musical and theatrical performances. See the private houses of the late Roman period with fascinating mosaics.
Next stop is Aphrodite's Rock (Petra tou Romiou) where you can enjoy an optional brief swim (bring a towel with you) in the beautiful sea where the goddess of Love and Beauty was born. Rumour has it that to swim around the rock brings good luck.
Arrive in Pafos town which was the ancient capital city of Cyprus. Visit the Catacombs of St. Solomoni, you may walk through the catacombs and inside the caves and chambers.
See the Pillar of St. Paul where the Apostle was bound and lashed as a punishment for preaching Christianity before he managed to convert the Roman governor to Christianity.
Time permitted to walk around the old port area and the Venetian fort. Enjoy lunch or a snack in one of the many attractive restaurants and cafes. (payable locally)
Continue to the archaeological park and the house of Dionysus, Roman villa with it's amazing floor mosaics. Cyprus was under the Roman command 2000 years ago, see the villas decorated with mosaic floors which are considered to be the finest not only in the Mediterranean area but Worldwide as the Pafos mosaics are very well preserved.
Next stop is Yeroskipou village, stopping to taste the famous Pafos delights "Loukoumia" (sweets)
Lunch and entrance fees in museums are not included in price.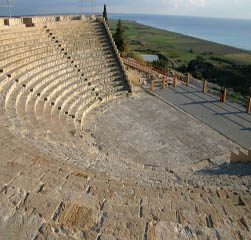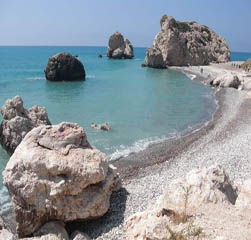 From €50 per person. Child €25. Seat in coach tour together with other English speaking guests.
Cost includes:
- pick up from your hotel in Limassol
- guide (English speaking)
- professional driver
- air conditioned minibus
- infants under 3 years free
Not Included:
- Entrance fees to sights
- lunches or drinks
- Tips to driver
Notes:
Monastery and Church visits require modest dress, no shorts or sleeveless shirts
Cyprus General Information
Area : 9,250 sq km (of which 3,355 sq km are in the Turkish Occupied Cypriot area)
Population : 796,740 (July 2009 est.)
Capital : Nicosia
Languages : Greek, English, Turkish
Currency : EURO
Government type : republic
Climate : temperate; Mediterranean with hot, dry summers and cool winters
Tipping
In Cyprus, island, a 10% service charge is sometimes added to a restaurant bill; if not, then a tip of a similar percentage is expected. Taxi drivers and hotel porters always appreciate a small tip. Bargaining is not normally part of the shopping scene in Cyprus, neither in the North nor the South.
Money
The Republic's unit of currency is the Euro (€). Euro notes come in denominations of 5, 10, 20, 50, 100, 200 and 500. It is often difficult to get change for a €500 note. One euro is divided into 100 cents. Coins of 1, 2 and 5 cents are copper-coloured; coins of 10, 20 and 50 cents are gold-coloured; 1 and 2 euro coins are gold-and-silver coloured.
Banks in Cyprus exchange all major currencies in either cash or travellers cheques.
Cyprus entered the euro zone in 2008.
ATMs
You will find ATMs in most towns and in most larger villages throughout the Republic of Cyprus.
Credit cards
Credit cards can be used in stores, restaurants, supermarkets and petrol stations. In the latter, you can even buy petrol after hours with your credit card from automatic dispensers.
History
Situated at the maritime crossroads of the eastern Mediterranean basin, Cyprus has a rich and varied history. Many invaders, settlers and immigrants have come here over the centuries, and the island has seen Greeks, Romans, Byzantines, Lusignans, Genoese, Venetians, Ottomans, British and Turks seek to take a part of Cyprus for themselves. Cypriots, whether Greek or Turkish, are proud of their nation and feel a strong sense of national identity. The division of their island in 1974 is viewed by many as a temporary setback, and Cypriots look to the day when Cyprus will be a united island once again.