Itinerary
Day 1: Arrive Luxor via Cairo. Meet your driver, transfer to Nile Cruise boat for embarkation on your 5star Nile cruise boat.
Day 2: Cross the West Bank to visit Thebes Necropolis, Valley of the Kings, El Deir El Bahari of Hatsheput and Colossi of Memnon facing the Nile. Lunch on board. Sail to Esna. Dinner and overnight in Esna.
Day 3: Sail to Edfu, visit the temple of Horus. Sail to Kom Ombo. Lunch on board. Sail to Aswan. Dinner and overnight Aswan.
Day 4: Visit the High Dam, the Unfinished Obelisk, and the Temple of Philae. Lunch and dinner onboard. Overnight Aswan.
Day 5: Sail by Felucca and view of Agha Khan Mausoleum. Lunch and dinner onboard. Overnight in Aswan.
Day 6: Sail to Kom Ombo. Visit the temple shared by the two gods Sobek and Haroeris. Lunch. Sail to Edfu and Esna. Dinner and overnight in Esna.
Day 7: Sail to Luxor. In Luxor visit the famous Luxor and Karnak Temples. Lunch, dinner and overnight in Luxor.
Day 8: Disembarkation after breakfast and transfer to Luxor airport for departure.
Sequence of visits are subject to change
From Cyprus to Egypt Nile Cruise Tour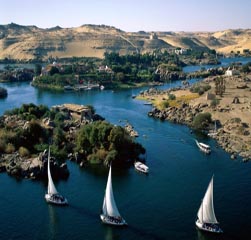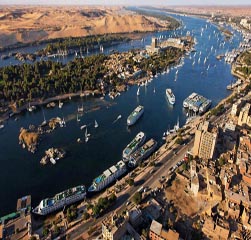 CAIRO
Le Meridien - Pyramids Hotel & Spa - 5* Cairo
A popular hotel with excellent pyramid-view pools. A popular, well-positioned hotel offering excellent leisure facilities including two magnificent heated swimming pools, a new spa and spectacular views of the Pyramids of Giza. Approx. one hour from Cairo airport and within ten minutes' walk of the famous Pyramids at Giza. The hotel offers a variety of restaurants serving international cuisine, a choice of bars, a shopping arcade, two excellent heated swimming pools and the new Explore Spa with saunas, steamroom, indoor pool, Jacuzzi and massage facilities. There is also a fitness centre.
Mercure Cairo Le Shinx - 5* Cairo
An elegant and stylish hotel, perfectly complementing its majestic surroundings. Set at the foot of the Sphinx and Giza pyramids, the Mercure Cairo Le Sphinx Hotel offers a range of impressive facilities and breathtaking views, creating the ideal setting for the ultimate in relaxation. Centrally located in the historical city of Cairo. Approx. 45 minutes from the airport. Indulge in the expansive lagoon-style swimming pool that overlooks a fascinating backdrop, relax and rejuvenate in the impressive spa with facilities to include a Jacuzzi, sauna and massage treatments or savour a flavoursome cuisines and fine wines and cocktails in one of the three restaurants and four bars to include international delights at Alexandria Coffee Shop, Italian, French and English dishes in Romeo and Juliet, and enjoy a tasty barbecue dinner at Le Sphinx Roof restaurant with exquisite views (Apr-Nov). There is also a fitness centre, children's playground and Mirage club with live DJ.
Marriott Hotel and Omar Khayyam Casino - 5* Cairo
The magnificent Cairo Marriott Hotel & Omar Khayyam Casino is a harmonious combination of a former royal palace and a complex of twin towers, with a connecting garden terrace. The Palace, 'Al Gezira', was built by Khedive Ismail as a guest palace for the Suez Canal inauguration celebrations in 1869. The hotel opened its doors under the management of Marriott International Hotels in October 1982. Cairo Marriott Hotel & Omar Khayyam Casino is located in the heart of Cairo. The hotel is within easy reach of Cairo's main attractions, located just 15 minutes away from the Pyramids of Giza and 5 minutes away from the Egyptian museum.
Ramses Hilton Cairo Hotel - 5* Cairo
Situated in one of the most famous tower blocks in Cairo, this luxurious hotel is spread over 36 floors and comprises 834 rooms, of which 67 are suites. This comfortable hotel comprises a foyer with 24-hour reception desk, lifts, and safes. Further facilities include shops, a hairdressing salon, a café, three bars including a rooftop cocktail bar, six air-conditioned à la carte restaurants and a nightclub. Conference facilities, with a capacity of up to 840 people, also exist within the hotel. Room and laundry services round off the facilities on offer along with the medical assistance. Guests arriving by car will find a car park available. This elegant luxury hotel lies at the heart of Cairo on the eastern bank of the River Nile. The hotel affords a glorious view of the city, the Nile and the Pyramids. Cairo's countless entertainment and shopping venues as well as sights of interest are to be found in the immediate vicinity. Public transport may be found only 100 m from the hotel. The well-equipped rooms come with a bathroom with hairdryer. Further facilities include air conditioning, a direct dial telephone, satellite/ cable TV, air conditioning, a balcony, a minibar/ fridge and some also feature views of the Nile. The outdoor complex offers guests a swimming pool, a bar and a sun terrace with sun loungers and parasols. Guests may relax in the sauna, the steam room, massages or the special spa packet. Sports enthusiasts may like to use the gym.
Grand Pyramids Hotel - 4* Cairo
Not far from Cairo's city center, considered a haven green landscape and offering leisure and business travelers. 239 Rooms & Suites included air-conditioning, remote control satellite TV, LCD television, safe despite box, direct dial telephone and mini bar, internet access, hairdryer , large balconies overlook the swimming pool and lush gardens, 24- hours business center, offering a wide variety of restaurants with array of international cuisines, Italian & Thailand. Grand Pyramids Hotel haven the only Heated Indoor Pool in the Pyramids area & offer equipped gym, professional massages, facial and steam room. We serve stylish & comfortable meeting rooms & outside catering for up to 250 & 800 guests with amazing events.
Golden Tulip Flamenco - 4* Cairo
Golden Tulip Flamenco is a business-friendly hotel located in Cairo's Zamalek neighborhood, close to Aquarium Grotto Garden, Coptic Museum, and Cairo Tower. Additional points of interest include Egyptian Museum and Khan el-Khalili.
Oasis Hotel - 4* Cairo
The Oasis Hotel really is, as its name suggests, an oasis in the immense city of Cairo. The hotel is located just a few minutes drive from the Great Pyramids of Giza, and is set within 9 acres of beautiful landscaped gardens. It is one of the few good 4-star rated hotels in Cairo, and we use it on many of our tours with a 'standard' comfort rating. Located approximately 10 minutes drive from the Great Pyramids (too far to walk), 1 hour from Cairo International Airport and 30 minutes from Downtown Cairo and the Egyptian Museum. As there aren't many bars and restaurants in the immediate vicinity of the hotel, a complementary shuttle bus service operates throughout the day - although many guests chose to stay within the hotel complex as there are plenty of facilities and different bars & dining options there.
LUXOR
Sonesta St George - 5* Luxor
The Sonesta St George is a modern hotel which stands on the banks of the Nile and has views over the Nile to the Valley of the Kings on the West Bank. The hotel is contemporary in design but maintains a very Egyptian feel with lots of columns, marble floors and Egyptian artwork throughout. It has all the facilities of a good 5* hotel including a heated outdoor pool, a health and fitness club and a wide choice of restaurants, bars and shops. The location, facilities and service levels provided by this hotel make it one of first choice hotels for private and tailor-made trips which include a stay in Luxor. The hotel is located on the east bank of the Nile in the centre of Luxor's shopping district. All the main tourist sites of Luxor are within easy reach and it is only minutes away from the Luxor Temple and the Luxor Museum. Luxor international airport is only 12 kilometres away.
Steigenberger Nile Palace - 5* Luxor
Ideally situated Nile-side hotel. This popular hotel boasts high standards of comfort and the best Nile-side location. Welcoming and well situated for Luxor's history and culture. A short walk from shops and bazaars, with brilliant views over the West Bank of the Nile. Approx. 20 minutes from the airport. Centred around an attractive courtyard, the hotel boasts an excellent choice of bars and restaurants including Lebanese and Italian cuisine. A sun terrace overlooking the Nile surrounds the refreshing freeform swimming pool providing a relaxing riverbank setting. The hotel also has a tennis court and a fitness centre.
Sofitel Winter Palace - 5* Luxor
Opulent legendary landmark. Sofitel Winter Palace is a legendary landmark of Luxor, built in 1886 and with all the charm and character of its palatial historic past, boasting an array of sophisticated restaurants, fabulous facilities and opulent, luxurious guest rooms. Just across the road from the Nile, close to Luxor Temple and the shops and 20 minutes from the airport. With a fabulously grand facade and an air of regal refinement, the hotel has a refreshing swimming pool nestled amongst tropical gardens and a welcoming poolside bar. Evening dining includes the signature French 1886 restaurant (jacket and tie required and available on request) and the evocative El Tarbouch Egyptian restaurant. Guests on half board enjoy breakfast and evening International cuisine at La Corniche.
Iberotel - 4* Luxor
A comfortable hotel offering guests a friendly and welcoming atmosphere, the Iberotel Luxor boasts an excellent location on the banks of the Nile with great views across to the Theben Hills. Terraced gardens lead down to the pool, a unique feature built on a floating platform on the river, and there are a variety of dining venues including Chinese and Italian cuisine. Luxor temple and the famous bazaar are only 10 minutes walk away.
Things to know about Egypt
VISA'S:
Visas are required for all nationalities. Many country's citizens can obtain one upon entry however citizens of some countries are required to obtain their visa from a consulate before arriving. It would be best to check with the closest Egyptian consulate or Embassy to be certain.
MEDICAL REQUIREMENTS:
Normally no immunizations are required or needed. If you have recently been traveling in an area known to be experiencing problems you should obtain a health certificate before arrival. While in Egypt drink the filtered bottle water or the mineral water. Also be sure to bring any prescriptions you might need. And don't forget to prepare for the "Pharaoh's curse" with a bottle of Imodium or similar. Be careful of fresh fruit juices as they may be diluted with local non-filtered water.
CURRENCY:
The local currency is the Egyptian pound (LE). 1 LE = 100 piasters. Banks are opened in major hotels for 24 hrs. Credit cards are widely used in major hotels & restaurants. Charges will be in Egyptian pounds. The exchange rate floats and changes daily. You can check the current rate on-line at http://money.cnn.com/markets/currencies/ . You do not need to change money prior to arrival as most currencies are accepted, especially US dollars, however best to keep some local currency (Egyptian pounds) for any antiquity sites visited.
CLIMATE:
The best season is from October through May when the temperature is Cairo is comfortable in the daytime, and cool or even cold at night. Weather in Upper Egypt, Luxor, Aswan and Abu Simbel is comfortably warm. During the summer months in Cairo is hot and dry, upper Egypt is extremely hot, sightseeing is done early in the morning. Average temperatures can be:
Cairo Aswan
Jan 45/67 F 52/76 F
7/19 C 11/24 C
March 55/79 F 59/89 F
13/26 C 15/32 C
May 65/95 F 72/101 F
18/35 C 22/38 C
July 73/99 F 80/110 F
23/37 C 27/43 C
Sept 70/95 F 76/105 F
21/35 C 24/41 C
Nov 55/80 F 60/89 F
13/27 C 16/32 C
CLOTHING:
Modesty in clothing should be observed. Women should cover their arms when visiting mosques. Bring comfortable walking shoes for sightseeing and walking on desert sand. Sneakers are needed and no open sandals as it is sandy. Sunglasses as well as hats and scarves are recommended as protection against the strong sun. Preferably no shorts in the cities. Beaches are like beaches all over the world, much more casual and laid back so shorts can be worn. While at hotels wear a cover wrap to/from the pool if you have to go through the hotel to reach it.
ELECTRICITY:
220 volts, 50 cycles AC in Cairo. Wall plugs are the round two pronged European type. No adapters or transformers are provided best to bring your own.
HOLIDAYS:
The weekly day of rest is Friday. Islam is the principal religion of Egypt. So the "weekend" is generally Friday and Saturday. Sunday is a normal business day although a good percentage of the population is Eastern Orthodox Christian. Islamic Holidays are based on the lunar calendar and change annually. The Eastern Christian holidays are generally different than the western Christian ones. For instance Christmas is on January 06. Tourist attractions (antiquity sites) are open every day except New Years day. Some sites that are of an active religious type (monasteries, mosques, etc.) close for their appropriate sabbath.
TIPPING :
Tipping is customary in Egypt at hotels , restaurants , Nile Cruises and to guides. However a tip is much appreciated. It depends on your own evaluation of the services received. (See guideline below)
Suggested amount for tipping in US Dollars
Guide:
Full Day $15 (2 persons per day)
Driver:
Transfer from airport or train station to hotel or vice versa $2 (2 persons per day)
Full Day Tour $5 (2 persons per day)
Restaurant's:
waiters $1 (2 persons per meal)
Porters at hotels:
Check In $1 (2 persons per day)
Check Out $1 (2 persons per day)
Nile cruise:
Crew – excluding the guide $8 (2 persons per day)
Guide $6 (2 persons per day)
Felucca ride: $4 (2 persons per day)
Airport assistant $5 (2 persons per day)