Cruise from Limassol to Greek Islands, Israel and Lebanon
The cruise ship c/s Salamis Filoxenia has nine passenger decks, has a gross tonnage of 15,400 tonnage, length 157 and width 22 meters. The cruise ship can accommodate up to 800 passengers in comfortable cabins of different categories and luxurious suites, all equipped with private facilities and LCD televisions. Please note that all cabins are above the sea level. The public areas include five spacious lounges and bars, amphitheatric cinema that can be used for seminars and lectures, swimming pools for adults and children, large casino, internet café, big duty free and gift shop, a shop with selected traditional Greek products, gym and spacious open decks. For our little friends there is a kids club on board and our trained staff will organize kid's activities.
Selection of Cruises to various Greek Islands and the Holy Land sailing from Limassol – Cyprus. Cruises from 2 to 8 days.
Sailing Itinerary
Refer to the price list for the sailing itineraries. Early booking discount up to €60 per person
Note: see below early booking discount for bookings before 21 June 2019.
2-day cruises €20 per person
3-day cruises €30 per person
4-day cruises €40 per person
5-day cruises €50 per person
6-day and longer cruises €60 per person
Deposit must be paid before 21 June 2019 for early booking discount to be valid.
see also special offer for mini cruise to Israel from the Israel panel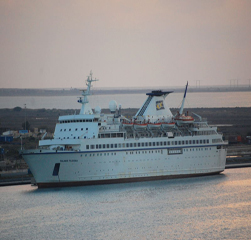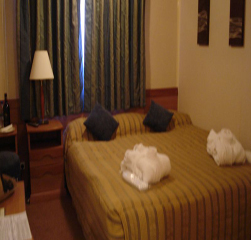 Salamis Filoxenia
The cruise ship c/s Salamis Filoxenia has 255 spacious cabins of various categories and ALL CABINS ARE ABOVE WATER LEVEL. All our cabins are fully air-conditioned to make your trip more pleasant and have amenities such as bathtub/shower, telephone, LCD television, safe box and spacious closets.
TECHNICAL DATA NAME c/s SALAMIS FILOXENIA
GROSS TONNAGE 15,402 TONS
OVERALL LENGTH 157 METRES
CRUISING SPEED MAX. 20 KNOTS
ACCOMMODATION GRAND SUITES
AIR-CONDITIONING FULLY AIR-CONDITIONED
ELECTRIC CURRENT IN CABINS 220V